"OGOPOGO STATUE" PAINTING COLLECTION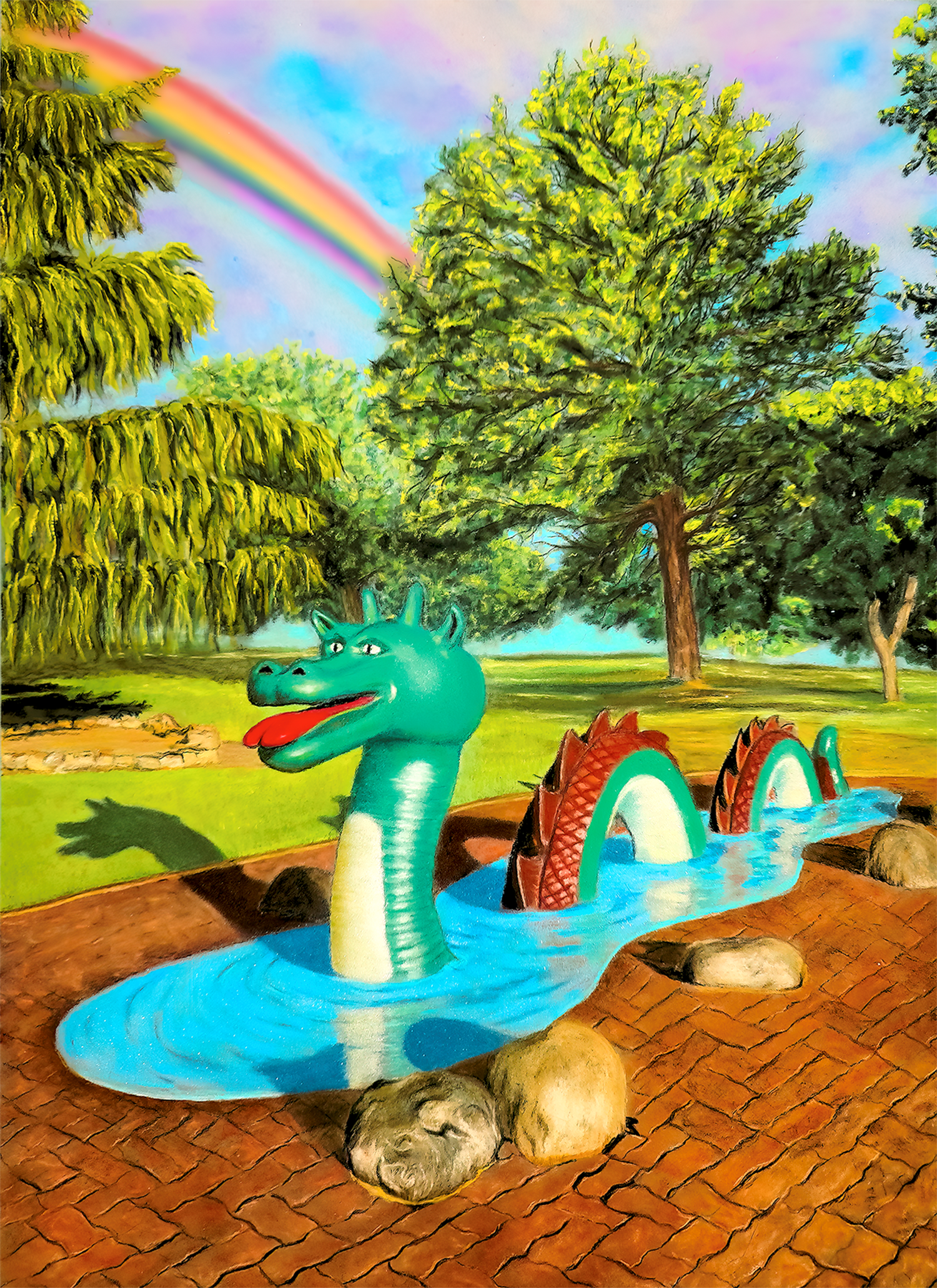 "Ogopogo Statue"
A PASTEL PAINTING
This vibrant painting captures the essence of the infamous Ogopogo Statue that stands proudly in downtown Kelowna, BC. The statue depicts a realistic and friendly representation of Ogopogo, the legendary lake monster. The statue is situated in the midst of a serene body of water, giving the impression that the creature is joyfully swimming.
The scene is set on a brick boardwalk, adding a touch of urban charm to the natural surroundings. Lush and tall mature trees line the grassy background, their branches reaching towards the sky. As the sun casts its warm glow, the trees create long and lazy shadows that dance upon the grass.
The sky above is a breathtaking sight to behold. A fabulous rainbow stretches across the horizon, its vibrant hues painting the sky with a burst of colors. The blue sky serves as a brilliant backdrop, accented by light and medium purple clouds that add an ethereal touch to the scene.
As you gaze upon the painting, you can almost feel the tranquility and magic that permeates the air. It's a scene that evokes a sense of wonder and curiosity, inviting you to step into the world of Ogopogo and experience the beauty of Kelowna's downtown core.
Painting Info
About the Painting

"Ogopogo Statue" is a fiberglass statue of the mythical lake creature said to inhabit Okanagan Lake in British Columbia, Canada.

Built in 1960 by artist Peter Soelin, the statue was placed in Kerry Park, downtown Kelowna BC in 1998 as part of the Public Art Program.

The painting of "Ogopogo" by artist Jen Myhre, is an original works, created using multiple types of Pastels on a specialty fibrous paper/board called Pastelmat.

Jen photographs all her own artworks and digitally edits as needed, to curate the colors as close to the original as possible to recreate as prints. She also prints all her own works & creates gifts & souvenirs permanently imprinted with her amazing Okanagan Art!
About the Process

Jen Photographs all her own artwork and digitally edits as needed to curate the colors as close to the original as possible.

She also works with the most up-to-date photo editing & A.I. software to ensure quality resolution for prints of any size, on all the products you see before you.
All "OGOPOGO STATUE" Products
Below you can scroll through all "Ogopogo Statue" products without needing to open any links
*You can also filter by price, date, name, etc.