"OGOPOGO & SANTA BAG" PAINTING COLLECTION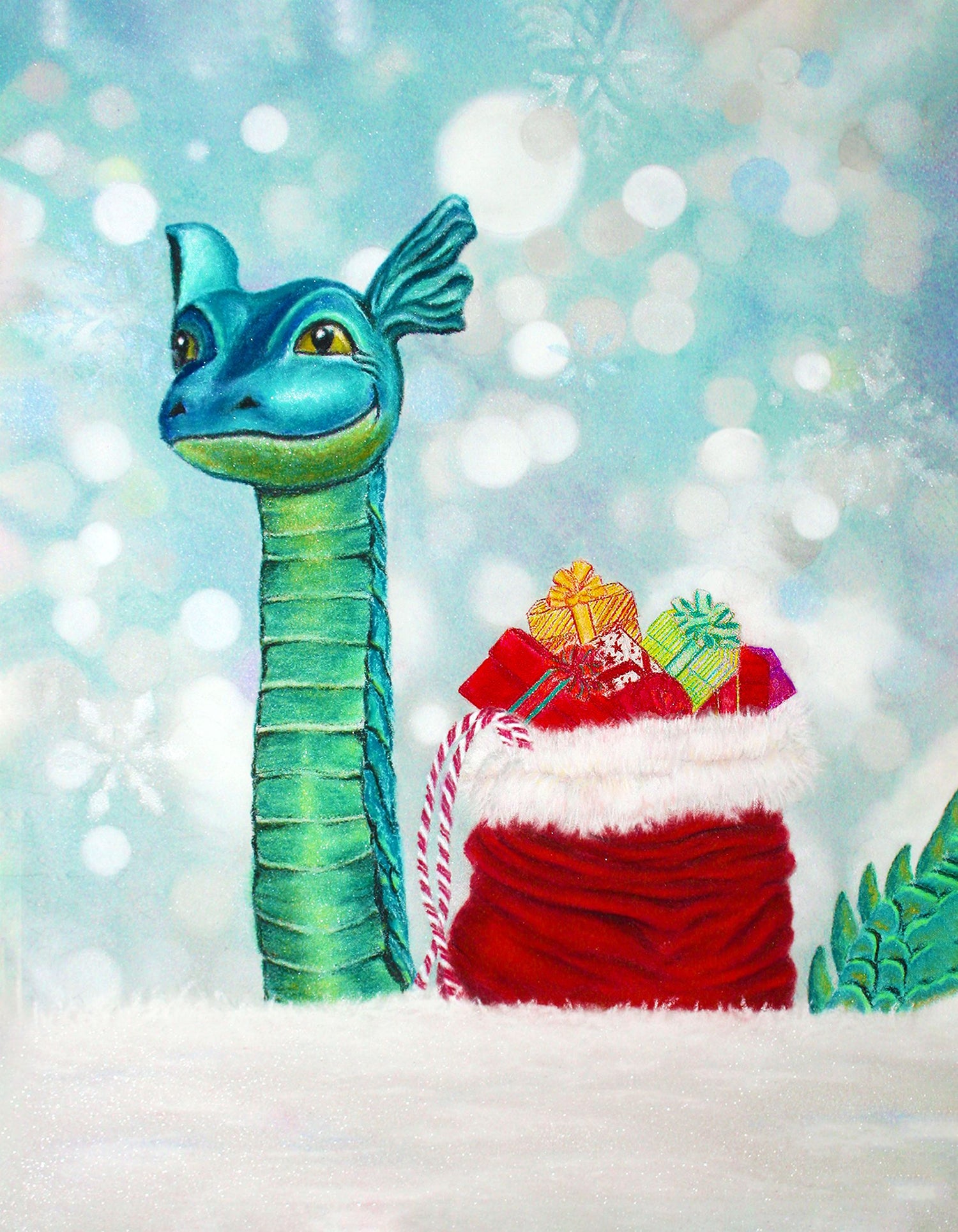 "Ogopogo & Santa Bag"
A PASTEL PAINTING
The painting of "Ogopogo & Santa Bag" depicts a stunning scene of the legendary Sea Creature, Ogopogo, carrying a Santa bag overflowing with gifts, as if it were on a special mission to deliver presents to children around the world.
The creature is painted with intricate details, showcasing its majestic beauty, with shimmering scales of green, blue and yellow, blending seamlessly together.
Against the backdrop of a winter wonderland, snowflakes dance and glisten in the air, reflecting the glittering snow below. The Ogopogo's expression is gentle and kind, and the presents in the bag seem to glow with a magical aura.
This painting captures the beauty and wonder of the holiday season in a truly unique and enchanting way.
Painting Info
About the Painting

The painting of "Ogopogo & Santa Bag" is an original works by Jen Myhre, created using multiple types of Dry Pastels on a specialty fibrous paper/board called Pastelmat.

Jen's rendition of the Mythical Lake Creature is travelling with Santa's Bag of Gifts through the sparkling snow with magical snowflakes falling in the surreal turquoise background.
About the Process

Jen Photographs all her own artwork and digitally edits as needed to curate the colors as close to the original as possible.

She also works with the most up-to-date photo editing & A.I. software to ensure quality resolution for prints of any size, on all the products you see before you.
All "OGOPOGO & SANTA BAG" Products
Below you can scroll through all "Ogopogo & Santa Bag" products without needing to open any links
*You can also filter by price, date, name, etc.