"THE SAILS" PAINTING COLLECTION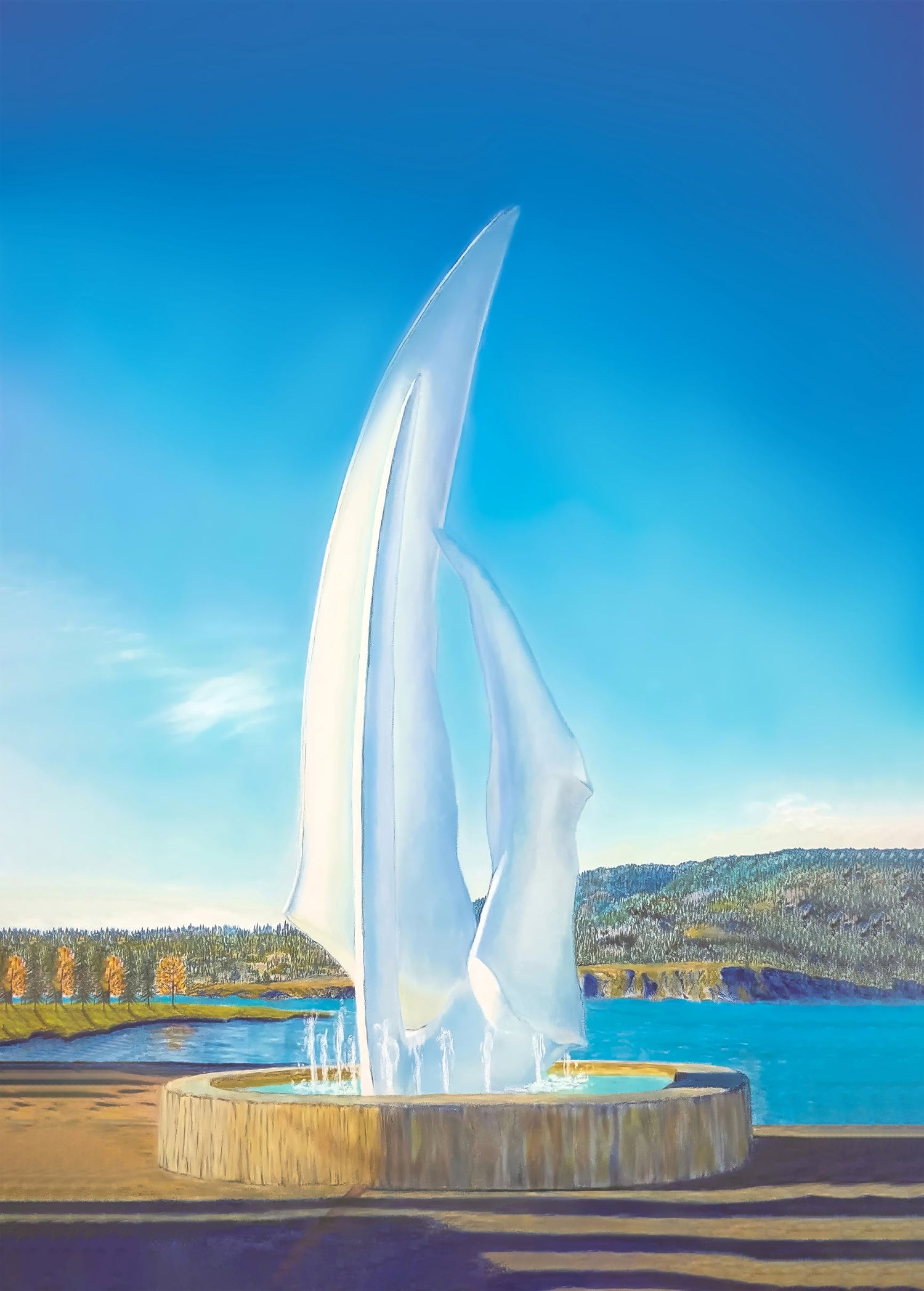 "The Sails"
A PASTEL PAINTING
"The Sails" water fountain is a beloved landmark of Kelowna, BC Canada, known for its unique and striking design, the painting captures its beauty and majesty in a way that brings the viewer into the heart of the city.
The colors of the painting are bright and bold, reflecting the lively atmosphere of downtown Kelowna.
The fountain is designed to resemble a set of sails billowing in the wind, with graceful arcs. The sails are crafted with intricate details, with each panel carefully sculpted to create a sense of movement and flow. The beauty of the tall white structure of the fountain dominates the surrounding landscape, with the boardwalk and stunning water of Okanagan Lake visible in the background.
Overall, the painting of "The Sails" is a celebration of the Spirit of Kelowna and the iconic landmarks that make it a special place.
More Painting Info
About the Painting

"The Sails" is an iconic fiberglass Statue/Water Fountain, located in the heart of downtown Kelowna, B.C. Canada. "The Sails" water fountain stands 39ft high, weighs approx. 4,012lbs, was created by artist Robert Dow Reid and installed in 1978.

The original painting of "The Sails", by artist Jen Myhre, is an original works created using multiple types of Pastels on a specialty fibrous paper/board called Pastelmat.
About the Process

Jen Photographs all her own artwork and digitally edits as needed to curate the colors as close to the original as possible.

She also works with the most up-to-date photo editing & A.I. software to ensure quality resolution for prints of any size, on all the products you see before you.
Print-On-Demand
Each product is made especially for YOU, only when you place an order
Come back often...
New, exciting products added every day!