"BLACK PANTHER" PAINTING COLLECTION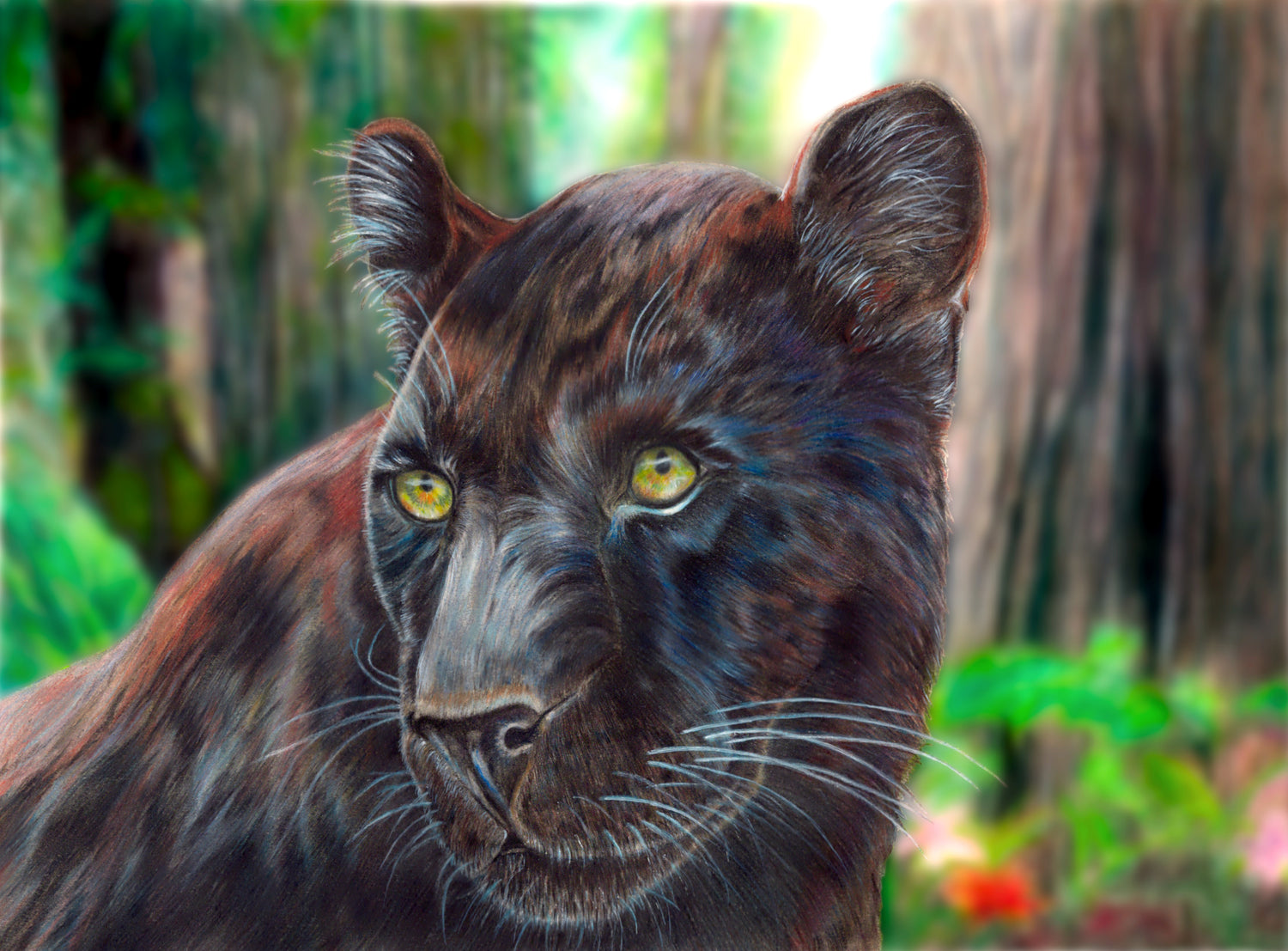 "Black Panther"
A COLORED PENCIL & SOLVENT PAINTING
The painting depicts a "Black Panther" laying peacefully in a dense forest, its intense gaze directed off to the side, perhaps alert to the sounds and movements of its surroundings.
The panther's dark fur with auburn highlights shimmers in the sunlight, adding a warm and vibrant contrast to the shadowy forest behind it. Subtle hints of sunlight filtering through the trees creates a sense of dappled shadows and depth.
The overall effect is one of serene beauty and natural harmony, evoking the wild majesty and power of this elusive predator.
Painting Info
About the Painting

The original painting of "BLACK PANTHER", by artist Jen Myhre, is a unique works created using multiple layers of professional Colored Pencils along with rubbing alcohol as a solvent to "melt" the pigment into artist Watercolor Paper.
About the Process

Jen Photographs all her own artwork and digitally edits as needed to curate the colors as close to the original as possible.

She also works with the most up-to-date photo editing & A.I. software to ensure quality resolution for prints of any size, on all the products you see before you.
All "BLACK PANTHER" Products
Below you can scroll through all "BLACK PANTHER" products without needing to open any links
*You can also filter by price, date, name, etc.
Regular price

Sale price

$49.72 USD

Unit price

per

Regular price

Sale price

$33.76 USD

Unit price

per
Print-On-Demand
Each product is made especially for YOU, only when you place an order
Come back often...
New & very cool, products added every day!